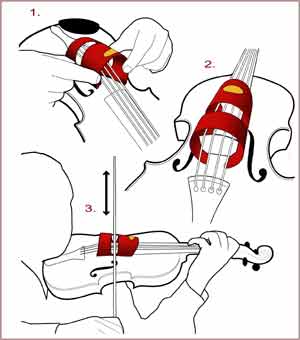 The BowZo is the simplest and easiest to fit violin bowing guide consisting of a slotted open tube made from a flexible polymer which can easily clip to the bridge of a 1/4, 1/2, 3/4 or full sized violin or 11 to 14 inch viola.
The BowZo springs open and easily clips on to the bridge and fingerboard of the violin (see 3-step image). Once attached, you place the bow inside the slot of the BowZo and can practice your bowing technique.
What it does:
A temporary practice aid which provides visual feedback to the user when they are bowing straight
Allows free violin bowing movement within a straight path
Allows the violinist to see the fingerboard
When bowing correctly and straight the bow does not touch the Bowzo apart from a light brushing on one side or the other. Used sensibly, it will not damage violins or bows.
Allows the music teacher to help their pupils achieve better tone in their violin notes.
User Guides